About Us:
BJS Soft Solutions Pvt Ltd is rapidly growing across the country, both organically and by bringing in like-minded managed IT service providers (MSPs). We're building a national network that can provide exceptional service to our clients.
An Adaptive Platform for the Evolving Global Asset and Get a chance to work with a global network.
Job Description:
We are seeking a skilled and experienced .NET Developer to join our dynamic development team. As a .NET Developer, you will play a key role in designing, coding, testing, and maintaining software applications using the .NET framework. You will collaborate closely with our cross-functional teams to deliver high-quality solutions that meet our clients' needs.
Responsibilities
Collaborate with the project team to understand software requirements and translate them into technical solutions.
Design, develop, and maintain software applications using the .NET framework, C#, and other relevant technologies.
Write clean, efficient, and well-documented code that adheres to best practices.
Participate in code reviews to ensure code quality and provide constructive feedback to team members.
Troubleshoot and resolve software defects and issues, ensuring optimal performance and user experience.
Stay up-to-date with the latest trends and advancements in .NET development and related technologies.
Work closely with UX/UI designers to implement visually appealing and user-friendly interfaces.
Collaborate with other developers, testers, and stakeholders to ensure successful project delivery.
Assist in identifying areas for process improvement and contribute to the team's continuous learning and growth.
Collaborate with cross-functional teams to identify and resolve operational inefficiencies.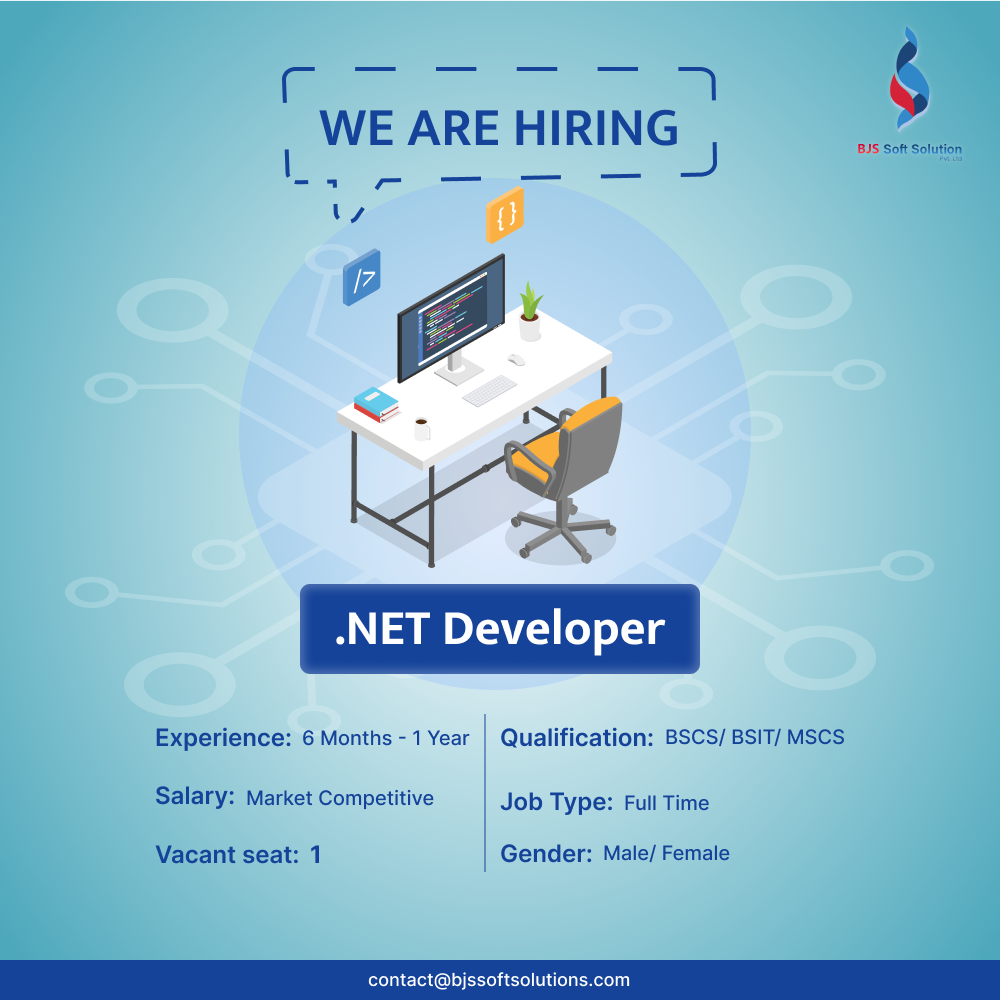 Requirements:
Bachelor's degree in Computer Science, Information Technology, or a related field (or equivalent work experience).
Proven experience as a .NET Developer or Software Engineer.
Strong proficiency in C# and the .NET framework.
Solid understanding of object-oriented programming principles.
Experience with front-end technologies such as HTML, CSS, and JavaScript.
Familiarity with databases and SQL.
Knowledge of software design patterns and best practices.
Excellent problem-solving skills and attention to detail.
Strong communication and teamwork skills.
Ability to work effectively in an agile development environment.
Any relevant certifications (e.g., Microsoft Certified: .NET Developer) are a plus.
Perks & Benefits:
Up to 3 Annual Increments.
Medical and Health Benefits.
Recreational Activities & Tours.
Allowances and Performance Boosters.
Loyalty Benefits and Interest-Free Loans.
Paid Holidays & Paid Overtime.
Training and Learning.
Flexible Environment.
How To Apply:
Read the job description thoroughly to understand the position's requirements, responsibilities, and qualifications.
Before starting the application, gather all the relevant information you'll need to complete the form.
Enter details and customize your cover letter to address the specific job and explain why you're a good fit for the position.
Upload your resume or CV. Ensure that it is updated and tailored to the job you're applying for.
Job Category:
.NET Developer
Job Location:
101 Regency Plaza MM Alam Road Lahore